August 18, 2016
The devastatingly sexy Dr. Venus Lux administers one dose of thick hard cock directly into patient Eli Hunter's tight little asshole, ravaging this hungry slut until he's cured of all but his desire for more of Doctor Venus! Spanking, intense anal, rimming, teasing, and more!

Hot for Nurse! Dr. Lux Treats Patient with Dose of Thick Cock!
August 11, 2016
Lucky Slave Sebastian Keys is bestowed the honor of worshiping the magnificent goddess Jessica Fox. He bathes, licks and sucks her scrunched arches and long slender toes. She fucks him deep in his hungry ass after he sucks her long perfect cock and plunges his tongue in her asshole. This sensual romantic shoot contains a ton of foot worship, hot 69 action, and hard fucking.

August 5, 2016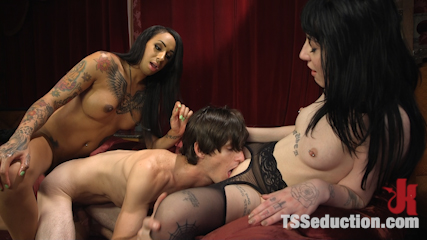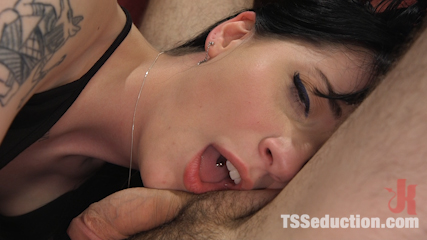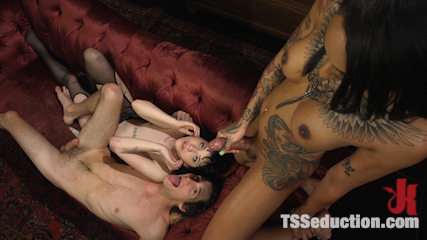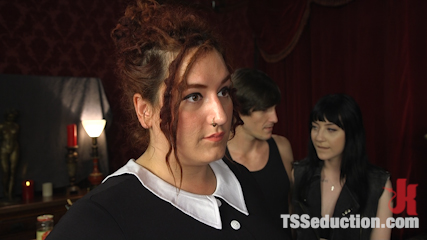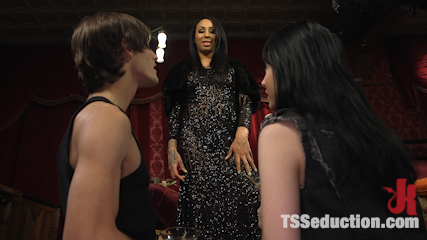 Nervous first timers Tony and Charlotte hire Honey Foxxx to do the most vile and disgusting things she's ever done to them. The minute she undresses they devour Honey's rock hard cock ramming it down one another's throat. Honey bends Charlotte over her knee and spanks her as Tony licks her pussy and prepares it to be fucked by Honey's glorious cock.Pathetic Tony is then made to watch and lick Honey's balls as she fucks Charlotte in a way he never could. This hedonistic, spitty, sweaty threesome continues with foot worship, anal fisting, and Honey fucking Tony deep in his hungry ass while he licks Charlottes pussy.

Honey Foxxx Corrupts Young Innocent Couple
July 30, 2016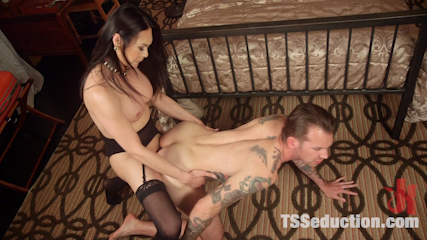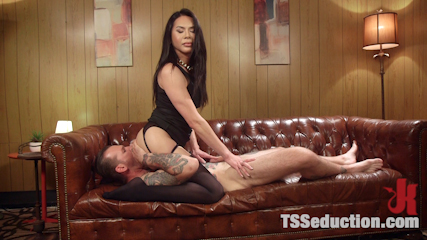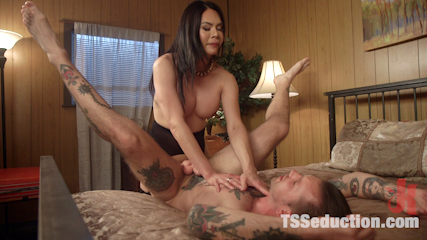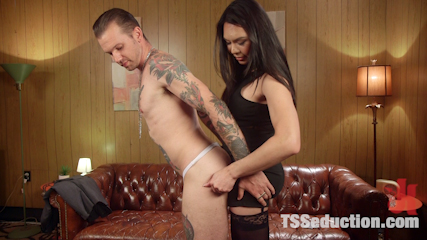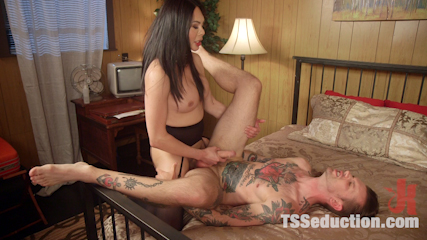 Sexy dominant Amanda Jade hires Will Havoc to be her boy toy for the night. She strips him down and inspects his hard cock and tight ass. She bosses him around with her sultry commanding voice instructing him to lick her nylon stockings with his eager wet tongue. He then worships her perfect ass and deep throats her stiff cock. Before she makes his ass her own with a hot ass pounding, she teases Will with a sensual wet blowjob, keeping him on the edge all night long.

Amanda Jade's debut on TS Seduction!
July 23, 2016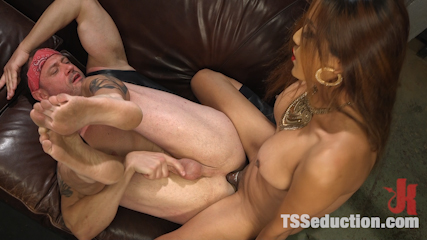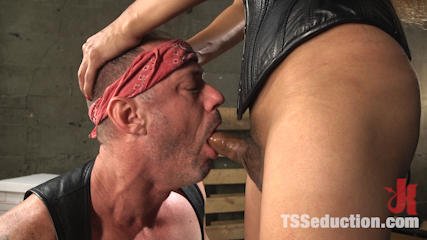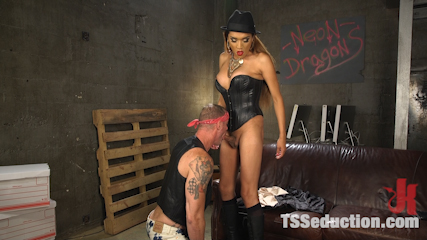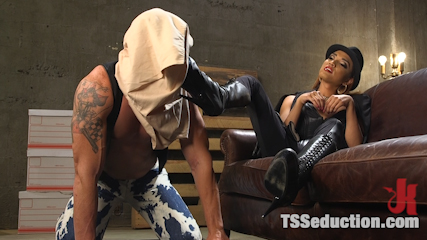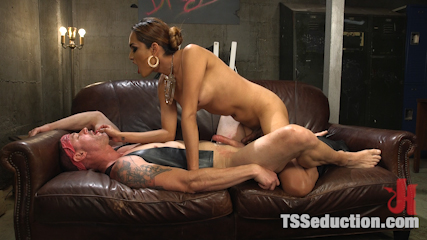 You can't move up the rank until you've had a session with TS boss bitch Jessica Foxx and her hard hungry cock! A. Arclyte learns his lesson and loves every single inch of it!

July 18, 2016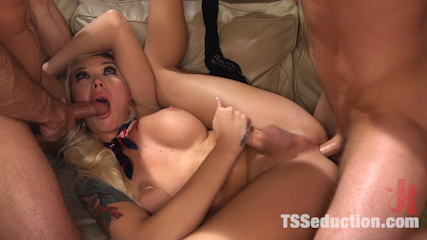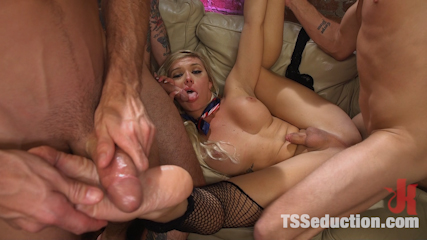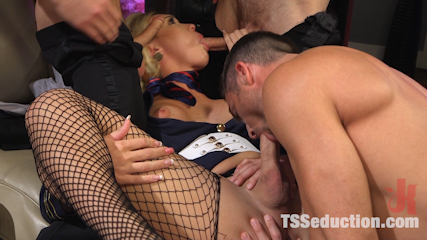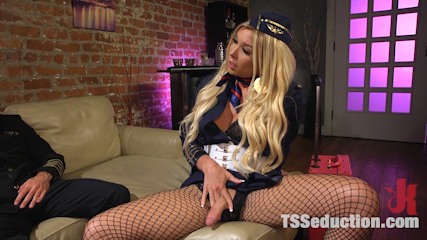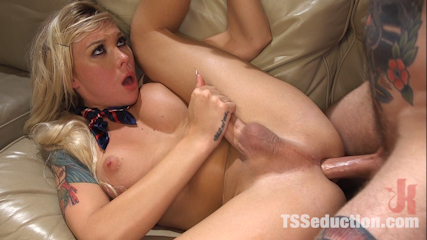 For the FIRST TIME EVER, TS Seduction brings you the much anticipatedfilm, Mile High Gangbang! Aubrey Kate has her gangbang fantasies cometrue by getting fucked hard by three studly pilots! She expertly deepthroats all their cocks at the same time, gets her beautiful assholelicked, and returns the favor to each stud, greedily licking each oftheir assholes. Her cock is sucked deep while she rides the pilots'cocks, and each of them take turns on her hungry asshole while shestrokes her gorgeous, thick, hard dick until she can't hold it backany longer, and blows her load everywhere! She is so horny she begsfor huge loads of cum all over her face and the pilots oblige, leavingher cum drunk and drenched in juices!

Aubrey Kate's 1st Cockpit Cum Fest Gangbang!
July 2, 2016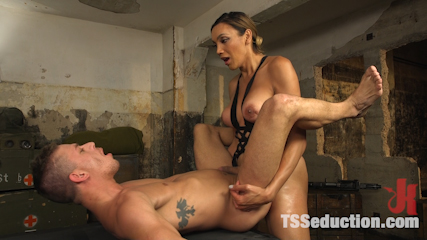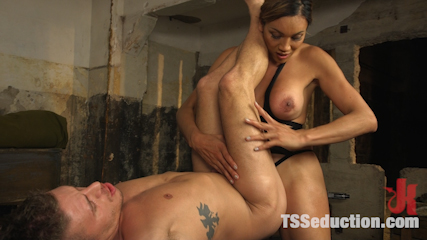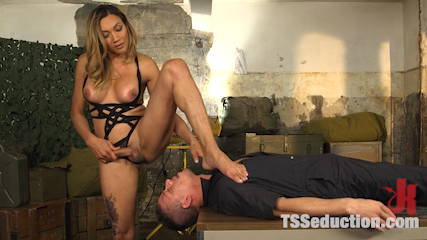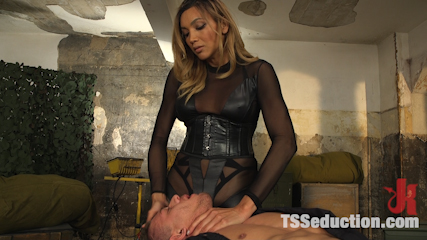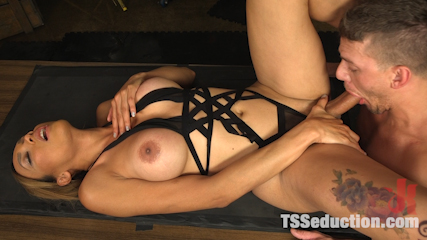 Yasmin Lee 2 weeks in a row! Need I say more? Yasmin slays in this Bionic Woman parody, tossing Alexander around and shoving her huge hard cock deep down his throat and fucking him like only Yasmin Lee can! He also gets to suck on her beautiful feet and blow his load all over her toes. This makes Yasmin so hot she blows one of the most epic loads from her beautiful cock we've ever seen! Not to be missed!

June 25, 2016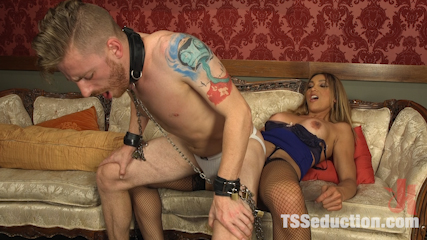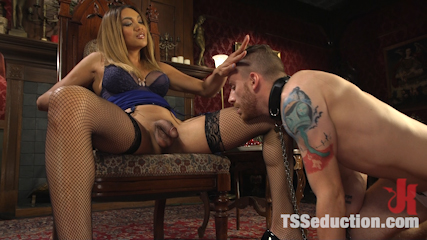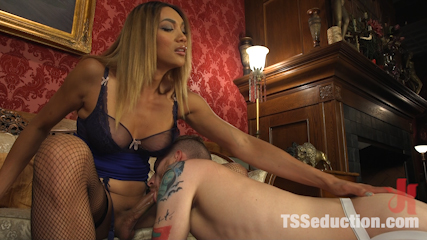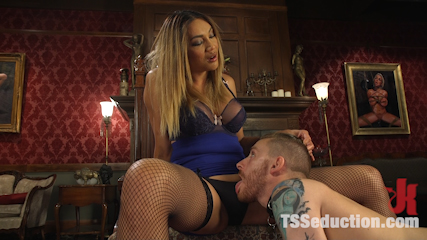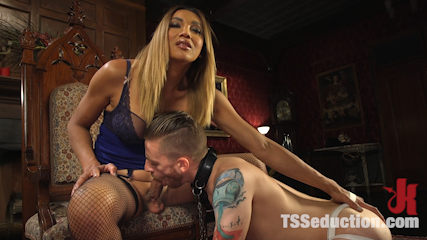 Yasmin Lee packs a hard punch with her huge hard cock POV style making you part of the action! Sebastian is made into her sex slave taking every inch of her cock in his holes, literally taking his breath away with every hard pump and thrust of her cock! In the end, and only like Yasmin Lee can, she shoots such a big load all over his face that you feel like you're covered in her juices too!

Yasmin Lee POV fucks you into oblivion!
June 18, 2016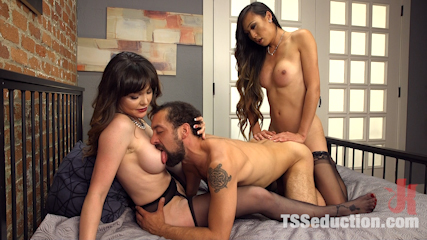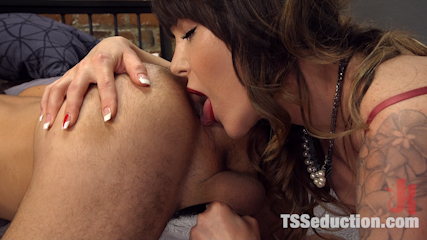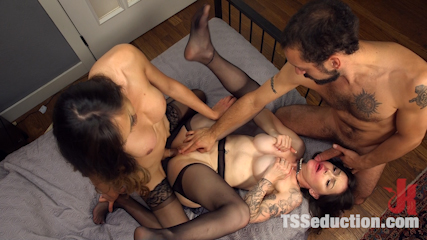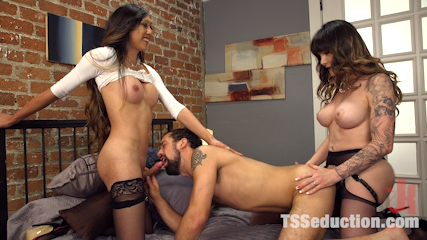 Welcome back legendary beauty Danielle Foxx to TS Seduction! In this threesome tryst, Danielle wants something new to spice up their marriage and she loves ass. They seek the help of sex counselor, Venus Lux who takes a hands on approach to helping couples! Before DJ knows it Danielle has her strap-on deep in his ass while his mouth is stuffed full of hard, pounding TS cock!! His face is then stuffed deep in his wife's pussy while he takes every inch of Venus's cock deep in his ass until he blows his load all over then it's Danielle's turn! Venus slides her hungry cock in Danielle's juicy cunt then blows her load over both their faces and tongues and the couple spit balls Venus's sweet sticky cum!

Spit Balling TS Cum For Couples
June 11, 2016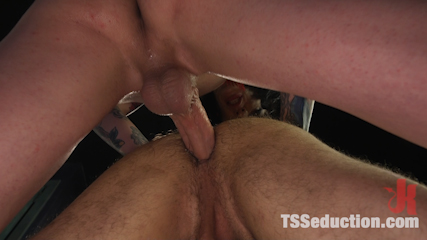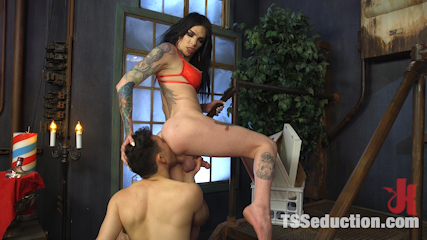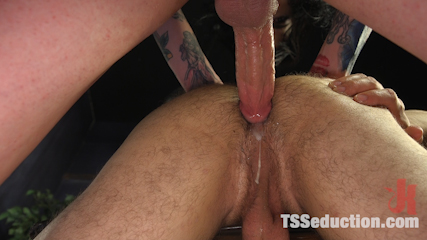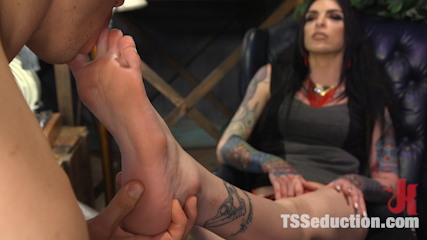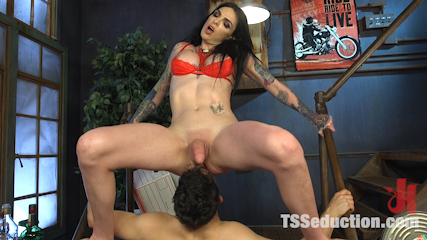 Chelsea Marie is back and my god she is on fire with her raging hard cock! This time she plays a producer for one of the latest tattoo TV shows and Corbin Dallas desperately wants in but first he must please the boss and her hungry cock! Lots of wet cock sucking, deep kissing, ass licking, hard ass fucking and two glorious pop shots with Chelsea Marie's first cream pie!

Chelsea Marie's First Creampie!
June 4, 2016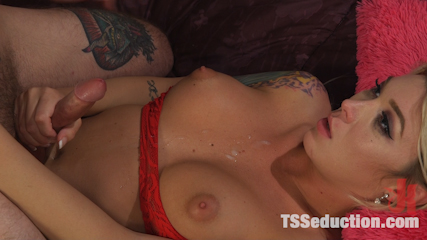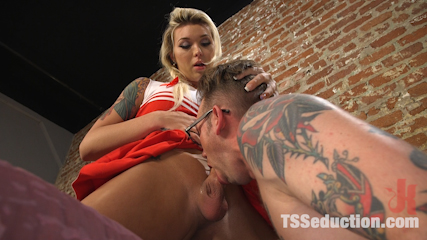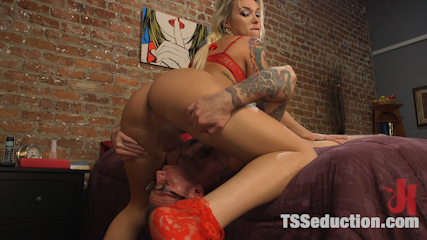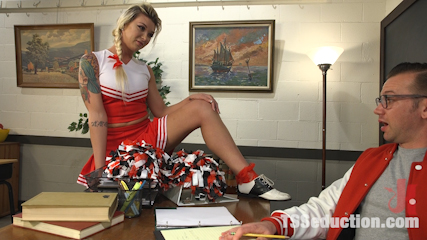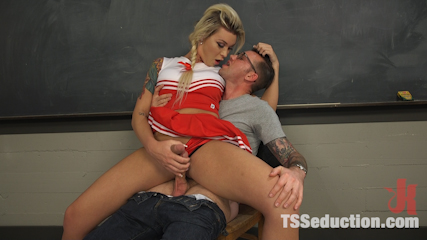 Aubrey Kate is used to getting her way. She is tan, tall, D-cup tits & has long lean legs that extend miles before reaching her perfect tight ass, barely concealed under that tiny cheerleader uniform. This tease knows exactly how to work that body to get what she wants, and has no problem sleeping her way to good grades…or even a party.Right now, all that's standing in Aubrey's way is her dorky tutor, Will Havoc. He's trying to do his job, but it grows harder and harder as Aubrey keeps bending over that chalkboard, flashing her bright red bloomers at him and sitting on his lap. Aubrey's cock eventually explodes out of her tiny uniform, straight into Will's mouth where she gives him a sloppy, desperate BJ so mindblowingly good that he lets her take him back to her dorm and fuck the hell outta his tite ass. Study sesh isn't over til Aubrey covers his glasses in her hot cum and lets him do her homework while she parties. They don't call her head cheerleader for nothing.